JOIN OUR FACEBOOK NINJUTSU STUDY GROUP
https://www.facebook.com/groups/149895721720469/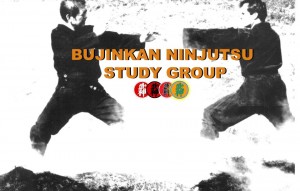 We have over 5,000 members. Check us out and grow in the arts.
Our goal is to have a study group without the BS and Trolls. Here are the rules…
READ THIS FIRST.. This is a BUJINKAN NINJUTSU STUDY GROUP.
Helping others grow in their lives and Budo is my goal. Life is valuable and time is precious so i do not waste it. There is ALWAYS a reason that I post something or reply in the way I do. I have studied Budo for over 50 years now. It is my role as a Sensei to take you deeper in your insights and understanding. My insights may not be yours and yours may not be mine. That is okay but realize that this is my dojo and I teach all my students when they are teaching to own the mat.
I will be maintaining this Bujinkan Ninjutsu Study Group as if we are in the dojo together. Please also respect my assistant admin Shihan James Clum, I am grateful for his help in monitoring and sharing his vast knowledge with you.
COOL FEATURE-
The search the group bar at the top right of the page under the header image is extremely valuable to search for all the related past articles. there is lots of great archived info posted in here. It is little known and you can pull up anything – I invite you to try it out.
BOW IN-
So in your own way bow in -EVERY time that you come here.
DOJO RULES-
POST ONLY related Bujinkan Ninjutsu posts and ONLY in English or you will find them removed. ONLY Bujinkan students are welcome to post, you do not have to be IBDA, but it helps smile emoticon. If you are NOT in the Bujinkan you are welcome to comment or ask training questions related to Bujinkan material.
PERSONAL TRAINING VIDEOS is encouraged.
We love to see actual training videos. We are happy to give feedback to your training. Please state the level you are now at so we have a better idea of the level of feedback. Be prepared for critiquing comments. Know that they are to help you grow and not to demean you in any way. Those that attack once will leave the group.
DON'T LIKE IT DON'T COMMENT
The post is not for you. Another one will be. There is no need to say anything. If you get a thought I should not say this…. listen to that voice and don't. Add Value.
TALK TO OTHERS WITH A CIVIL CORDIAL TONE-
I will not tolerate disrespectful people, those that say they want to blow up someone because they do not like their F'ing post, those that use non-appropriate language or come here just to promote a different agenda, or 20 year old Ninja grandmasters.
FORGET THE INSTRUCTOR BASHING-
Come here to learn or add value. It does not matter to us if Ashida Kim is considered a fraud. Or if Steve Hayes is in or out of the Bujinkan (he is). Soke has asked Bujinkan students not to train with students that have left him such as Manaka of the Jinenkan and Tanemura of the Genbukan – so we do not discuss those matters here.
NINJUTSU DOES EXIST – While we all may arrive at different definitions it does exist and we train in it. I do lean towards the Ninpo Taijutsu as that was the art I first learned directly from Soke Hatsumi and was awarded my 9th dan. My question then is why did you join a Ninjutsu Group, if it does not exist?
RESPECT- To me martial arts begins and ends in respect. If you do not have it for others you do not have it for yourself. Call me old school if you want but I got my first blackbelt in the 1970's and have trained with hundreds of grandmasters.
And I have been to Japan over 50 times training with Soke Hatsumi. All those masters will agree with me. Do what you can to learn here and share with respect.
Enough said. Enjoy the training.
https://www.facebook.com/groups/149895721720469/

See you on the mat,
Shihan Richard Van Donk, IBDA Founder