IBDA COURSES STUDY ORDER
Your Recommended Path to Follow
IBDA COURSE MATERIAL RECOMMENDED STUDY ORDER
We realize that we offer a wealth of information (University Level) and it could be confusing on where exactly to start and in what order would it best to study the Bujinkan arts of Ninjutsu and Budo Taijutsu.
All IBDA students begin their journey at the same door, 9th kyu. We like to think of it as a Tori gate and that you are traveling a path. Budo is studying the martial way (the Do in Budo is the same as the Tao/Dao meaning way or path). You may be a brand new beginner or a very advanced martial artist. You may have already studied Bujinkan teachings for many years to a recognized Dan level. We still ask you to start here. Our Course material is comprehensive and we share our art in a way that we expect that you will one day want to share this art as a teacher. That way you will be ready to and you will know all of our material well enough to do that. All IBDA instructors are trained on all our material and have gone through a teachers program.
NINJUTSU MASTERS COURSE – Best Value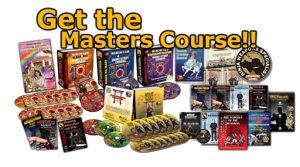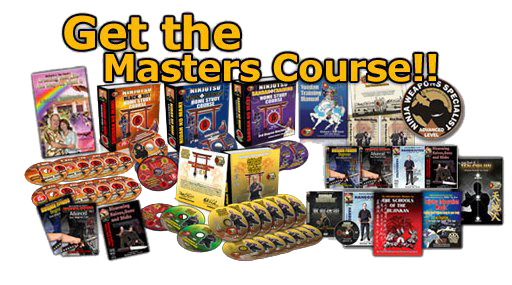 The Ninjutsu Masters Course is the result of me going ALL-IN for over 25 years to study with my teacher Soke Masaaki Hatsumi in Japan and taking endless notes and massive research to codify his Ninja teachings. These are my study materials and I offer them to you in an ALL IN ONE Package. So here it is….. Everything you need to study to achieve the level of Godan – 5th degree BlackBelt with IBDA. And this includes my Shidoshi Teacher Training Course and some advanced weapons training. It even includes my own personal training notes on the original Shidoshi teachings called the Ten Chi Jin(Heaven, Earth and Man).
You get 7 Complete Courses! Includes 43 Dvds, 14 Cds, 6 Manuals, 2 Books, 1,782 study pages, 4 Patches, 3 certificates, 9 years of the Ninja Vault and 2 great Personal Training bonuses!
I am an ALL-IN type of guy when I decide to do something. To me if it is worth doing at all then it needs to be done well and without compromise – especially if I am going to be spending a lot of my time doing it. So I want all the information that I can get on the subject so that I can master it for myself. If you are like me then this course may be for you.
For more information or to enroll go here
http://store.ninjutsu.com/categories/Home-Study-Courses/Ninjutsu-Masters-Course/
From Beginner to Blackbelt
Start with the SHODAN (1st Degree) COURSE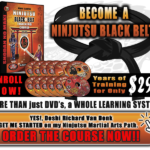 Start with the Shodan BlackBelt Course. Learn the Ninjutsu "the art of the Ninja"
that is no longer taught in Japan anymore. IN THIS COMPREHENSIVE NINJUTSU COURSE ARE HUNDREDS OF TECHNIQUES!
Easy to Learn Instruction!
How Not to get Hit! – Distancing the attack – Quick counters to any Attack-
Increasing Your Awareness – Conditioning Your Body – Personal Power
Punching – Kicking – Exotic Weapon Training – Stealth – Postures – Grappling – Rolling –
Meditation – Inner Power – Sword – Shinobi Iri – Throws – Submission –
Body Conditioning – Chokes – Spiritual Refinement and Much, Much More!!
Get the SHODAN COURSE
We encourage supplementing this study with ...
We encourage supplementing with the
NINJUTSU MADE EASY DVDS
, if you feel the need to go deeper on subjects like Kihon Happo, Postures, San Shin No Kata, Rolling Made Easy, or Ninja Weapons.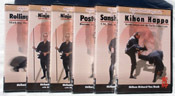 Then as you are getting closer to Shodan and beginning to get a feel for the taijutsu you may want to supplement with Combat Ninjutsu (shows you the possibilities of the art in combat), Disarming Knives, Guns and Sticks, Hanbojutsu, or Kusari Fundo (Short Chain) Dvds we call our MASTERING NINJUTSU SERIES.
SHIDOSHI TEACHERS TRAINING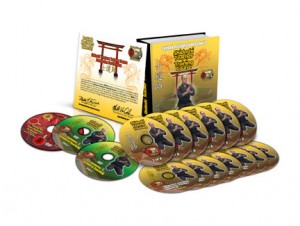 At or near Shodan, if your desire is to start a training group or open a dojo it is recommended that you enroll in the Shidoshi Teachers Training Course so that after you pass your Shodan (and this course) you will be eligible to become a Shidoshi-ho (junior licensed teacher) with IBDA and licensed through the Japan Hombu.
Get the SHIDOSHI TEACHERS TRAINING
Nidan
NIDAN (2nd Degree) GYOKKO RYU COURSE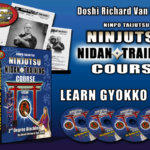 For this level you study the wazas of Gyokko Ryu 36 wazas and Kukishinden Hanbojutsu 16 wazas.
It is here that you begin to learn the deeper formal two person interactive training methods and all the history and aspects of the schools one at a time.
Get the NIDAN GYOKKO RYU COURSE
The following course was created to help
ALL Bujinkan Budo Taijutsu practitioners understand all the dynamic relationships of the Bujinkan art.
BUDO TAIJUTSU COURSE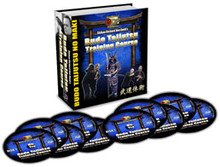 This course was created to help ALL Bujinkan Budo Taijutsu practitioners understand all the dynamic relationships of the Bujinkan art. This art has never been defined the way it is in this Bujinkan Budo Taijutsu Course. For many students it has been difficult to determine what they are really studying and what is important in that study. One reason is that the training draws from 9 different schools and overlaps in it's concepts in every class. The other is that while concepts are explored they have not been defined all in one place leaving the student to determine for themselves what is useful in the training. This has it's pros and it's cons. Many students and instructors have become confused.
AN OVERVIEW TEACHING ON WHAT IS THE MOST IMPORTANT LESSONS AND CONCEPTS IN LEARNING THE ART.
Get the BUJINKAN BUDO TAIJUTSU COURSE
Sandan
SANDAN (3rd Degree) SHINDEN FUDO RYU COURSE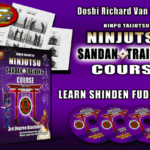 For this level you study Shinden Fudo Ryu Dakentaijutsu Eighty Four wazas of:
Ten no Kata (24 Heaven Forms), Chi no Kata  (24 Earth Forms) , Shizen Shigoku no maki (36 Ultimate Natural Forms)  plus 62 Kukishinden Ryu Rokushaku Bojutsu written wazas of the Keiko Sabaki / Shoden / Chuden / Okuden level wazas.
Get the SANDAN SHINDEN FUDO RYU COURSE
Yondan
YONDAN (4th Degree) TAKAGI YOSHIN RYU COURSE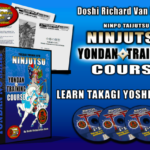 For this level you study Takagi Yoshin Jutaijutsu – 97 Wazas which are broken down into these levels
SHODEN LEVEL- Shoden No Kata , Ura Gata, Eri Shimegata
CHUDEN LEVEL – Sabakigata, Tai No Gata
OKUDEN LEVEL – Okuden No Kata, Daisho Sabaki Gata, Muto Dori and Moguri Gata
Get the YONDAN TAKAGI YOSHIN RYU COURSE
GODAN
(5th Degree) SHIDOSHI – Test
Test with Doshi Richard Van Donk

ROKUDAN
(6th Degree Blackbelt)
Ask your teacher!
Please note that your budo journey is an endless one. It really is a personal journey of self discovery. We are honored if you decide to share that with us.