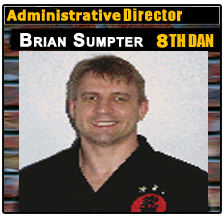 BRIAN SUMPTER – SHIDOSHI 8TH DAN   IBDA ADMINISTRATIVE DIRECTOR
I started Martial Arts training in 1979 with a Judo class that I fell in love with. I am currently a Certified Master Instructor as well as an Examiner by the United States Martial Arts Association for both Kodokan Jujitsu & Kodokan Judo. I was awarded Jujitsu Master Instructor of the Year in 2007 by the U.S.M.A. and was personally promoted to 5th Degree Black Belt in Judo & 7th Degree Black Belt in Jujitsu by the late Master Phil Porter.
In the early 1980's I was still searching for something more, so I began Chito Ryu Karate. I later switched to Shotokan Karate under Master Sam Boyd. I felt like I was always searching for the right Martial Art but was never truly satisfied. I currently hold a 5th Degree in Shotokan Karate, and I am a Certified Senior Instructor & Examiner by the U.S.M.A.
I have been studying the art of Brazilian Jiu Jitsu under Professor Marcello Monteiro from Brazil. I really enjoy this art because of the physical competition which allows me to push myself and my body to the max. I am competing as much as possible to test my skills and to constantly learn. I am currently the 2015 West Virginia Masters Division Heavy Weight Champion.
In 1997, I began training in the art of Ninjutsu/Budo Taijutsu under Master Richard Van Donk and finally found what I have been looking for all this time. It is an art that encompasses all of the things I could ever look for and one that grows with me. When I first met Shihan Richard Van Donk he greeted me with open arms and treated me like a lifelong friend. There was no ego or attitude, only the desire to help me on my path. I currently hold an 8th Degree Black Belt in Budo Taijutsu and title of Shidoshi. I am very proud to be a personal student under Shihan Richard Van Donk.