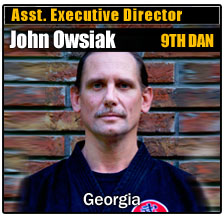 Senior Shihan JOHN OWSIAK
JUDAN – 5th Level – Now Executive Director of IBDA

I grew up in Michigan with a great love for the outdoors and Martial arts. When I wasn't out roaming through the woods or boating on the lakes, I was reading any martial arts book that I could find. I took my first Martial Arts class at age15 and was hooked. I studied Tae Kwon Do for 22 years from that first day, and made many lifelong friends in many different organizations.
I now live in Columbus, Georgia not far from Fort Benning with my wonderful wife and family. One day, I met Shihan Jeff Davis, and he introduced me to Ninjutsu. Even though I had been exposed to many arts at tournaments, I had never seen anything as devastating as this. I began training with Shihan Davis the very first day he decided to begin a training group. We followed the IBDA curriculum for our training, which made it really easy for me to study at home, and gave me a road map to follow. I met Shihan Richard and Linda Van Donk for the first time at the IBDA Tai Kai in 2003. They welcomed me into the IBDA world with open arms. What a mind-blowing event that was for me (as each one has been since). The instructors broke down concepts, drills, and techniques into easy-to-understand little bits I could use. Not only that, but the feeling of being one of the IBDA family was amazing; I could go up to anyone, regardless of their rank, and train. This spurred my desire to grow even more, and I knew this was my home.
Since that time, I have been blessed to have traveled to Japan and the Hombu Dojo to train with Soke Hatsumi and high ranking Shihan multiple times, and to many exotic places with those teachers. Through this, my wife and I have been exposed to many more hidden arts and most of all, have had the great honor of being exposed to many inner teachings. My teachers have shared many, many deep teachings with me, and how the Enlightened Warrior, Bujinkan, IBDA and Dynamic Descurdas teachings all really flow seamlessly together, just like everything in life. This exposure has helped me to grow in ways that I never knew I could, and in 2010 I took over leadership of the Columbus Bujinkan Dojo. I have also been asked to be the assistant executive director of the IBDA. By accepting these positions, I am honored to be able to give back to the art, and pass forward what I have learned. I have been taught not only see the beauty and peace in nature and life, but also in the devastating effectiveness of the teachings. This art has transformed my life to a much higher level, and has made me a better person, husband, father and peacemaker. It has helped me to avoid many obstacles and pitfalls. There is still so much more to learn. Each day I train on the inside and the outside, while looking forward to sharing what has transformed my life.
Shihan John Owsiak, JUDAN
thebudoway@aol.com
Columbus Georgia, USA
(706) 593-6561 Evenings