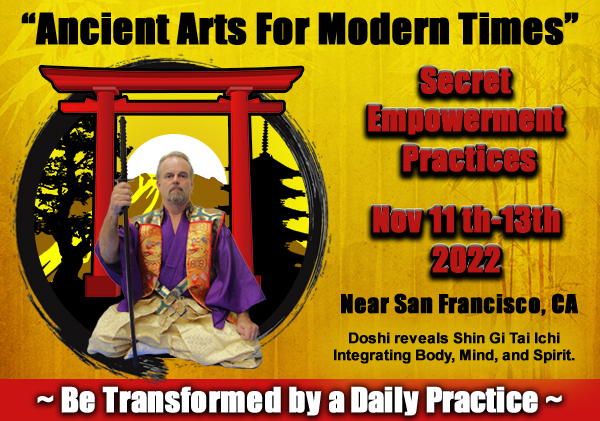 SPECIAL EVENT with Doshi 



Ancient Arts for Modern Times Series Presents
Secret Empowerment Methods of the Ancients




with focus on

Shin Gi Tai Ichi 心技体一 
(Integrating Body, Mind and Spirit

Mark Your Calendar For
NOV 11-13, 2022
Near San Francisco, CA
WHERE: Conference Center in the Redwoods Loma Mar CA 94021
(same location as the April Tai Kai) 30 minutes south of San Francisco
WHEN: Nov 11-13 – 2022  – FRIDAY 3PM to SUNDAY 4:30…
Everyone MUST- BE ON TIME 5pm is the latest arrival.
Doshi will start with an important harmony integration. 
At the April Tai Kai I unveiled some very amazing transformational teachings most everyone there requested that I do an event just on the Ancient Empowerment Inner Arts that includes body transformation and deep spiritual practices in a unique integrated way that took me 25 years of daily practice to work out.
I will share my own PERSONAL DAILY EMPOWERMENT PRACTICE condensed from best of the best of over 50 years of research. 
 We will practice it TOGETHER!! Learn it by doing it!!
Body conditioning- healing, power building and meditation skills 2nd to none. 
>>Much of these ancient empowerment practices I have never shared before to the public and have only shared in privates to advanced students.
HOW TO:
> HEAL YOUR BODY
> INCREASE YOUR ENERGY
> BE STRONGER
> QUIET YOUR MIND
> HOW TO MEDITATE LIKE AN ENLIGHTENED MASTER- even if you are a beginner!
> KNOW YOUR NATURE AND BE MORE HARMONIOUS
> LIVE LONGER
> HEAL OTHERS
> DAILY EMPOWERMENT PRACTICE
> DEAL WITH TODAYS WORLD – BUILD A PROTECTION SHIELD
(Integrating Body, Mind and Spirit)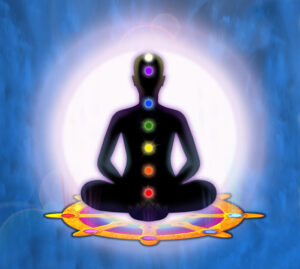 WHAT I WILL IMMERSE YOU IN:
Ancient Masters have used these practices to Achieve Spiritual Enlightenment, Live longer (231 years), Live Stronger, Live Smarter, Have a powerful mind set, develop Psychic powers, Build a stronger body, Heal themselves and others, and much more.
I have spent 50+ researching, practicing and training with great masters all over the world and studying what the most accomplished Ancient masters of India, China, Tibet and Japan have and are doing.
What I will share is What I Do!! Just the best- forget the nonsense. This is an interactive "Do It to Know It"actual practice experience!!
At this event you will learn to directly listen to your body and do the best daily practices to Empower Yourself and Optimize Your Life.
Come and Awaken the Master Within You.
Integrating Body, Mind and Spirit
BODY REJUVENATION
Embryology basics- how you became you and how that matters now.

Power of the Spine

Energy flows – Chi Gung and Dao Yin

8 Brocades – Warrior and flow methods

Organ Sound Healing 6 sounds

Rotations ankles and toes and fingers – add points on foot activating the spine

pressure points for spleen – kidney – stomach

Standing Practice

Massage self and others

More….
DAILY PRACTICE – Creating your ideal personal practice
MIND REJUVENATION
Exploring your energy field in a new way.

Building Harmony in Body and Life

Understanding the your Body-Mind-Spirit Matrix

Exploring consciousness
Remove energy blockages
Building a Protection shield around your body

Finding Your Center

Living Your Most Optimal Life
DAILY PRACTICE – Creating your ideal personal practice
SPIRITUAL REJUVENATION
MEDITATION – Basic and Master methods

Babaji's Kriya Yoga Level 1 initiation – Level 2 intro

Buddha's method – I AM




Golden light body Activation

Chakra Safe Opening




Alternate Nostril Breathing


3rd Eye activation

More…..
DAILY PRACTICE – Creating your ideal personal practice

ALL INCLUDED PRICE – includes Doshi Training, Hotel room and Great food in the Redwoods Conference Center.

SORRY,


We are FULL 
CONTACT THE OFFICE FOR POSSIBLE CANCELATION
707-987-9322

ALL INCLUDED PRICE – includes Doshi Training, Hotel room and Great food in the Redwoods Conference Center.
Total Investment: Only $750-
          


Facility – Room – Food: $300-
Event: Only $450
The investment in a life change will be only $450- I on purpose kept this price low as I want you to be able to come and get this knowledge that I invested enormous amounts of time, travel and capitol in. Private sessions are $400 an hour and people leave extremely happy. You get 3 days in person. Do what you can to be here. This event will sell out anyway so this is not a marketing ploy. The question is will you step up for your life and be there???
Please note: when you come you will also be agreeing that you know that I will be filming this training, as some footage will go into a my upcoming 6 mos Group Mentored Empowerment Course.
You get a deep dive of 3 days with me teaching you secrets that cost me over 1 million miles of travel and 50 years of study to get. Spending one day in person with me is 5x that investment. Worth it? Well in 30 years I have never been asked for a refund for in-person training.
Note: Our actual facility fee is $300 per person –  All attendees, including Linda and I 🙂,  are paying this – so no exceptions.
Hotel Room Lodging (2 nights Friday and Saturday) double occupancy and great Food  6 meals  Friday 5PM Dinner thru Sunday lunch. Please understand that this is double occupancy. There are 2 beds in each hotel room. We will pair you up upon request. Rooms in the same building as the Siden Lodge Meeting space!!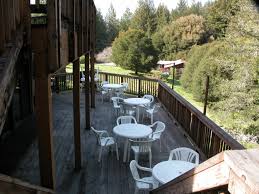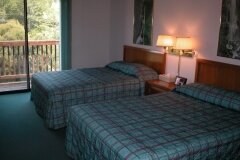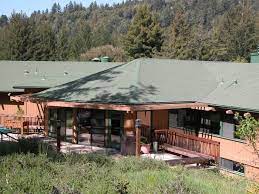 Go here to secure your spot now. Limited Space.
BONUS: Late Evening Fireside Chats – Ask Doshi any question (this event it will be organized) 😊
This is your chance to train directly with me in-person in the Ancient Ways for a fraction of what other people have and so invested in private sessions ($400hr) to learn. They go away so happy as they get a transformation from our time together. You will also, I guarantee it. I always greatly over deliver. I kept this event price low so that people that cannot afford privates or a mentorship program can join me in having a more empowered life.
These Secret Empowerments are a part of my upcoming mentored course (6-12 months), at a fraction of that investment. Take advantage of this opportunity and give yourself a gift that keeps on giving you rewards. These practices will greatly impact your life for the rest of your life. Very few trainings in your life could ever Empower your life so much.
When it fills…. well the chance is gone. 
I really do hope to see you there. I am going to work very hard on making this a magical life changing event. These practices are methods that you can do every day to empower your life. This is not just a lecture this is an do it to know it actual practice experience.
LET'S GO DEEP TOGETHER. 
Until Then,
Doshi
Go here to secure your spot.