30th Anniversary


IBDA TAI KAI SEMINAR – REUNION EVENT
April 6th-9th 2017


Thursday night 7pm thru Sunday 5pm
Middletown, CA
THEME – Controlling Space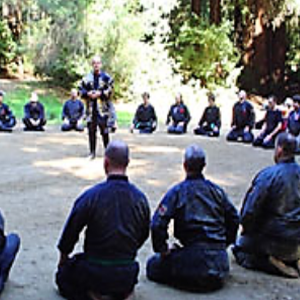 30 YEAR REUNION EVENT-

 Calling All Ninjas! Young and Old. 

If you have ever been to one of our Tai Kai's over the last 30 years we would love to have you come join us!!
So many people have come to our Camps/ Tai Kai's over the last 30 years as white belts and got their first green belts here. Many of you are now Sensei's, Shidoshi and Shihan's. Some are now even 15th dans!!! Imagine that!! 
 Come share your your growth, stories and Bujinkan training insights.
Sign up Now for a really great time! 
TAI KAI LIMITED SPECIAL Only $347-   Includes $40 Banquet Party!
THEME – Controlling Space (IBDA Bujinkan 2017)

At this Tai Kai event all instructors will deploy explore Controlling the Space in all it's forms from Simple Taijutsu, Taking Ukemi, Sword work, Staff Work, Wazas and in-between your own two ears. This year we will have many talented instructors besides Shihan Richard Van Donk that will make this a very educational training experience.
This event will be special. IF you have been before PLEASE make a special effort to be there as a gift to Shihan Richard Van Donk. He has always put a great effort into helping you and others in this art. He would be honored in having you come and help him celebrate this long budo journey with him. 

Come prepared to train (Yes, we party too- as we so much enjoy each others company and build lifetime bonding relationships).
But we are known for our continuous training. This is NOT your 10-12 2-5 event. Boring and a waste of time. Training is available from dawn to late night training just like we did in the old days. One year I do not think it stopped, except for short food breaks and a few mandatory showers. 🙂
We want you to go home tired, educated, fulfilled and inspired.
We also love the outdoor training and are working this in for our 30th.

MASTER INSTRUCTORS
Many instructors have committed to coming and making this event special. The following list will continue to grow. Encourage your teacher to come!
Shihan Richard Van Donk
Shihan Linda Van Donk
Shihan John Owsiak – Georgia Shihan James Clum – California Shihan Roman Marquez – Nevada Shidoshi Brian Sumpter – West Virginia – Shidoshi Vince Paladino
The teachings will be very deep and taught in a way that beginners will gain so much and advanced students will thrive no matter what your grade level is. There will be so many talented people to share here.
Shihan Richard Van Donk will be teaching a lot at this event. What it is to be a warrior, Mastering Your Taijutsu from the Inside Out – neuro-patterning session, Power of Bojutsu, Realistic Blade Methods, Empowerment Meditation, and Ask Him Anything Camp Fire Session.
Shihan Roman Marquez will host a class on striking Meridians and pressure points using Gyokko Ryu Wazas. Plus an outdoor knife throwing class.
Shihan James Clum will host a class on building power in your wazas and strikes.
Shidoshi Brian Sumpter will host a class on Bujinkan Ground Fighting.
Shidoshi Vincent Paladino will host a class on can you really survive Live Blade using his certified skills in teaching No Lies Blades.
Control the Space and Stop their attack, Subdue them And then you Sit on them!

We will have a great 30th Anniversary PARTY drinks, music and a late night camp fire. 
We are sure to make it special….. 

A Fireside Chat lead by Shihan Van Donk- Come ask ANY question and share your journey with us all. This will be a memorable event wether it is your first or your 30th (Note: I am the only one that has been to them ALL and it may be my last). 
LODGING- We have arranged special discounts at the Twin Pines Casino Hotel so please use our discount code when booking your room.
FULL DETAILS will be in your sign-up Package which will be E-mailed to you shortly after sign up.
TAI KAI LIMITED SPECIAL Only $347-

SIGN UP NOW!

  Includes $40 Banquet Party!

QUESTIONS?? 

Call the host Sensei Becky Norton at 707-987-9322 PST or best yet e-mail all questions to info@ninjutsu.com 
This will be a certified IBDA Rank testing event. For IBDA students only!!  
We do not rank ANYONE else's students.

Please Note:
While Yushu Shihan Richard Van Donk is authorized to give the Godan test on behalf of Soke Hatsumi potential Godan candidates must be pre-approved by Shihan Van Donk, prior to the event.
You must be training directly with IBDA and have hold a valid Japan Hombu issued Yondan certification. We do not rank ANYONE else's students.
Do not come and just expect to be tested for Godan- It will not happen!

TAI KAI PICS below