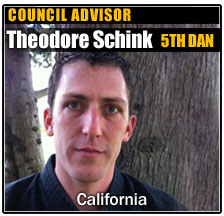 SHIDOSHI THEODORE SCHINK – 5TH DAN
My Interest in Japanese Martial arts began as a child when I was first introduced to HatsumiSoke, and the Bujinkan, by way of Sensei's early English-translation books.
Hatsumi Sensei's anecdotal writings on the history of Ninjutsu profoundly piqued my interest, and later, in 2005, I began to study BudoTaijutsu. The following year I met Linda and Richard Van DonkShihanand began training at their dojo. I first traveled to Japan for training in the autumn of 2006, when I visited there together with IBDA to attend Daikomyosai. Training in the Japanese dojos during that first visit was highly inspirational, leading me to return to Japan the following two years, and to spend a year living in Japan between 2009 and 2010. During thattime I also began to study the Japanese language. Today my studies of both Budo and Japanese continue, and I divide my time accordingly between my home state of California and Japan.I am very thankful for the opportunity granted to me to study together with Soke, the Japanese Shihan, Linda and Richard Van DonkShihan, and many other teachers and budoka from around the world. 
Outside of Budo I am an aspiring jazz bassist, and I have a lifelong love of music and art. Soke's use of language and metaphor comparing artistic, musical, and creative improvisation to martial art, speaks deeply to myself as an artist. Whether in my martial arts teaching, my coaching, or in my private work with individuals,
I place primary emphasis on this same creative flow, using self –awareness as the pathway. In doing so, my clients learn to manage their individual state of being, and in the process, to better access their own creative and athletic flow state. This is done through a particular manner of attention paid both;to one's "energetic" experience, and to one's breathing, as well as by other means and methods. 
Whether you are local, or whether you are traveling to, or through California's
San Francisco Bay Area, I invite you to join me at our dojo's regular training. We are conveniently located near to both Stanford University and to the now famous city of Palo Alto, and we are accessible from both San Francisco International Airport and local Cal-Train stations. Be advised that the dojo's class schedule changesseasonally, and that participation is currently by invitation only. For this reason,persons interested in attending class should first contact me, in advance, in order to introduce themselves.Please do so by writing to the email address provided below. 
I really look forward to hearing from you, and to seeing you on the mat!
Sincerely,
Theodore Schink – Shidoshi
Contact: abrightlightshining@me.com