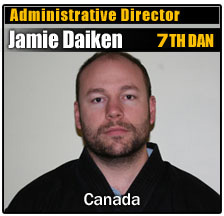 SHIDOSHI JAMIE DAIKEN 
My name is Jamie Daiken, from Ontario, Canada.
Discovering Bujinkan Budo Taijutsu and learning through the IBDA, has changed me for the better which has allowed me to empower my life. I have built truly valuable life long relationships with inspiring friends and teachers. I absolutely love training and studying the way, or the path. I enjoy investigating history, healing systems, esoteric teachings, meditation, economy of motion, the secrets of the masters and human nature; both my own and how other interact within this world.
My choice to train under Shihans Richard and Linda Van Donk has proven invaluable and means more to me then I can write here. I deeply value the lessons learned from them, both on and off the mat.
I have learned a lot more then I could have imagined when I started this journey, but when I look ahead, I see that I have barely scratched the surface. I intend to keep going and see how far I can further my level of understanding and knowledge in this lifetime.
I have achieved the rank of Godan in Bujinkan Budo Taijutsu and take the roll of an Administrative Director within the IBDA Master Council. I also am the forum moderator for the IBDA Vault.
I study Dynamic DeCuerdas Eskrima, Enlightened Warrior teachings, Bushindo Sword and many other healing methods.
I have been compared to the Queen song, "I WANT IT ALL", and this is not far from the truth.
My life is simple. When I am not training, I enjoy loving life with my wife, and have passions in music.
Please contact me by email or phone 289-389-0557 Jamied64@hotmail.com

Class times are as follows:
Tuesday night 9:15-10:30pm
Friday Night 9:30-10:30pm
Sunday 10:15-11:30 am